Introduction
All Jarcats were designed by the late Ross Turner (1951-2010). Ross owned dinghies and yachts since 1968, winning many trophies in trailer-sailer events. His first trailer-sailer was a fibreglass Redwitch monohull, followed by a fibreglass cruising monohull which he built in Darwin. Ross then built a trimaran which he used extensively both for racing and cruising, however when the kettle jumped out of the stove rails and his replacement vehicle was lacked towing ability, Ross decided to design a boat which would fulfil his requirements for a lightweight trailer sailer suitable for family cruising and racing.
The design needed to sail level, tow very easily and have plenty of room for his family to live aboard during holidays. Ross reasoned pragmatically that if you discard a deep keel (Moreton Bay is very shallow) then you are left with either a catamaran or trimaran. Catamarans don't have surplus weight in floats to keep balance, and have double the cabin volume compared to a similarly sized trimaran. Based on a tall friend for interior dimensions, legal towing weights and the premis of the beam = half the length for stability, the Jarcat 5 evolved. A rough prototype boat was built using the "stitch & tape" method which proved the layout, hull form and gave surprising performance.
The next prototype was built using the traditional ply over timber frame method. This proved to be quicker to build, lighter and gave a fairer hull form without filling. At 270kg "Mudskipper" was a success. 20 years of updates have given the J5 improved tacking and better looks, a more refined interior and an alternative timber wing mast rig. Ross went on to design the Coral Coast 29, j282 dinghy, Coral Coast 24, Jarcat 6, Coral Coast 30S and the Jarcat 7; either building or closely following the construction of each new design. Ross has personally built and owned J282s, J5's, J6's, a J7 and a CC29. Ross built his CC29 in 1983, and sailed her until 2005.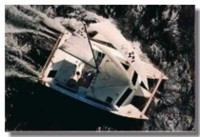 Ross' Coral Coast 29
All the designs apart from the J282 dinghy are based on the same plywood over timber technique which has proven to give a strong, fair hull at minimal weight, effort and cost. The plans show useful additions to standard tools which eliminate the difficulties of this method of construction. Epoxy glue and stainless steel screws are used with marine grade plywood and western red cedar stringers and frame edgings. Epoxy & thin fibreglass cloth and epoxy resin is applied over the entire exterior,and painted with epoxy undercoat and polyurethane top coat gives many years of maintenance free use.

Ross Turner (Designer)
Since my father's passing in 2010 I have re-drafted the plans in BricsCAD, with the intention of making the plans for these unique small trailerable catamarans available into the future. The Coral Coast series of yacht designs (CC24, CC29 and CC30) are unavailable. Please direct all enquiries regarding plans purchase to Mr Mr Don Nicholson. My current involvement with Jarcat is on a hobby basis as time allows. Don is a Jarcat owner, and a continuous voice on the Jarcat Yahoo Forum.
Regards,
Alan Turner